Nikon F 35mm Single-Lens Reflex Camera with Eye-level Prism Finder, Nippon Kogaku Japan NIKKOR-H Auto 1:2 f=50mm Lens
Nikon F 35mm Single-Lens Reflex Camera with Eye-level Prism Finder, Nippon Kogaku Japan NIKKOR-H Auto 1:2 f=50mm Lens
Gallery Item - Not For Sale
Nikon F 35mm Single-Lens Reflex Camera with Eye-level Prism Finder, Nippon Kogaku Japan NIKKOR-H Auto 1:2 f=50mm Lens
Gallery Item - Not For Sale
Product Description
Nikon F 35mm Single-Lens Reflex Camera with Eye-level Prism Finder and Nippon Kogaku Japan NIKKOR-H Auto 1:2 f=50mm Lens
Near mint, black body Nikon F 35mm Single-Lens Reflex Camera with Eye-level Prism Finder, Nippon Kogaku Japan NIKKOR-H Auto 1:2 f=50mm Lens, original grey Nikon F Flash Unit Coupler (pre AS-1) and original box.

The Nikon F camera was introduced in March 1959, revolutionizing 35mm camera design. The first serial number was 6400001 and the last, at the end of production in October 1973, was 7451052. This body, with its 685xxxx serial number, would have been produced between October and December 1967.
The Nikon F Specifications
Instant-return type, with
focal depth
monitoring button (stop-down button)
Mirror
Automatic instant-return type with lock-up facility available as necessary
Viewfinder
Interchangeable with waist-level viewfinder
Split-image type and matt-type as standard, interchangeable with each other
Shutter
Titanium foil focal-plane shutter
Self-timer
Variable duration type
Flash synchronization
Variable according to time lag, sync. with Speedlight at a high speed (1/60 sec.), with JIS B type clip contact
Dimensions
Approx. 147x98x89mm (with 5-cm F2 lens)
Weight
Approx. 685g (body only)
Why is the Nikon F SLR so famous?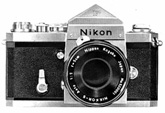 In an announcement dated May 1959, Nippon Kogaku K.K. listed the main features of the new Nikon F as follows:

(1) Unsurpassed quality,
(2) Easy operation with many functions,
(3) Automatic operation

On the other hand, after taking users' opinions into consideration, I think the Nikon F got high marks because it offered the following features:

(a) A wide variety of high-performance Nikkor lenses,
(b) Excellent durability,
(c) Defects particular to SLR cameras were corrected and minimized to provide easy operation
(d) Advanced picture-taking capability with a wide variety of high-performance accessories including a motor drive

Users appreciated the camera's design and features. The reason why the two lists of features above don't jibe is because I have grouped them in different ways.

In principle, camera designers should always take the user into consideration.

In practice, though, this doesn't happen very often.

But this is what occurred between the designers and users of the Nikon F, and it remains a rare case in the history of camera production. Put simply, I think the healthy relationship that developed between the two parties was due to the fact that optical engineers at Nippon Kogaku contributed directly to it.

Note: Excerpts above first appeared in "Nikkor Club Quarterly" magazine , published by the Nikkor Club, and was revised for Nikon's webpage.


Product Reviews
Find Similar Products by Category
Customers also viewed